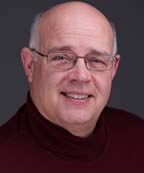 Barry Thompson, CRCM, Managing Partner
Barry is a nationally-recognized speaker, consultant, and former banker, with 38 years of service to the financial institution industry.  He is a contributor to Bankers Hotline and bankersonline.com, as well as other financial publications.  Barry also works as a banking "guru" for bankersonline.com, answering questions submitted by readers for the site.  He has been interviewed by Newsweek, Computer World, and other national and regional publications.  He has made presentations in Europe on internal fraud, Asia on bank security, and at the United Nations on identity theft.
Barry's banking career spanned 22 years before he "retired" to establish his consulting firm.  During his career in banking, he served as executive vice president, senior vice president, treasurer, compliance officer, and security officer.  In these positions, he has worked in or managed operations, accounting, investments, mortgage processing, and special assignments; and he has also worked with architects and contractors in remodeling and designing main offices, branches, buildings, and facilities.  In addition, he has written specifications and negotiated and purchased special insurance coverage such as Financial Position Bonds (Bankers Blanket Bonds) and Directors and Officers Liability Coverages.  Barry demonstrated the level of expertise he has acquired through years of service in the financial institution industry when he was named President & CEO of a housing development that was in severe financial distress and he was able to complete its construction and save his financial institution's investment.
Barry has investigated embezzlement cases, identity fraud cases, check kites, and almost all possible criminal incidents against financial institutions.  During his 22 year career as a security officer he handled over 900 security cases.  He has been involved with investigations and prosecutions on the federal, state, and local levels.  He has testified before grand juries, county courts, bankruptcy courts, family courts, and the New York State Supreme Court.
As a professional speaker, few can match his expertise when it comes to discussing the financial services industry. His programs are based on actual experiences that allow him to relate to any group of financial professionals, from the teller to the board of directors. He has made presentations on communications, organizational behavior and management, compliance, and security. He appears frequently before financial institutions and at industry conferences.
Barry attended prestigious schools held by the American Bankers Association and the former America's Community Bankers .  These schools include:  The National Trust School held at Northwestern University, the National Compliance School held at The University of Oklahoma, and the Investment School at Fairfield University.  This, along with his "Certified Regulatory Compliance Manager" designation, provides him with a background that very few in the financial services industry can match.
Our Consulting Experts
Thompson Consulting Group, LLC is proud to supplement its educational and consultative offerings by uniting with expert speakers and instructors that work solely with our firm.   These esteemed professionals have years of experience in the financial services industry and law enforcement.