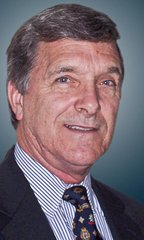 J. Branch Walton
Branch Walton is an Associate Dean of Student Services at Henley Putnam University, an on-line university specializing in intelligence, protection management, terrorism and counter-terrorism studies.  He is also currently active in training program development, management, and/or instruction for: the Miami Police Academy (Florida), Federal Law Enforcement Training Center, University of Findley, Eastern Kentucky University, South American Theft Group Intelligence Network, Miami Dade College, Broward County TRIAD, and South Florida INFRAGARD.
Branch has more than 40 years of experience in federal law enforcement, private security, and instruction.  He retired from the United States Secret Service after a 21-year career.  Assignments included Special Agent-in-Charge of a field office; instructor and Assistant Agent-in-Charge of the Office of Training; investigative and protective assignments at three field offices; and security details for Presidents Nixon, Carter, and Reagan.  Criminal investigative experience includes threat assessments as well as the investigation of and supervision of counterfeit cases. Prior to his USSS service, Branch was a commissioned officer in the U. S. Marine Corps and a special agent with the Office of Naval Intelligence.
Following his career with the Secret Service, Branch served as a Law Enforcement Coordinating Committee representative with a U.S. Attorney's Office,  Director of Corporate Security for Cummins Engine Company, Chief of the Federal Law Enforcement Training Center's Management Institute, as a criminal justice instructor at Indiana University at Bloomington, Indiana, and as President of the National Association for Bank Security-Profit Protection, LLC, a company specializing in security and compliance training for the banking industry.
Branch is a well-known speaker and author on workplace violence, executive protection, identity theft, school safety, and other security topics.  He continues to instruct at the Federal Law Enforcement Training Center's Counter Terrorism Division and the Department of Homeland Security in the fields of physical and operations security.  He is a past or current adjunct faculty member of the criminal justice department of six universities.  Branch has authored numerous articles, two books, book chapters, and has consulted on several workplace violence training videos.
Topics of Expertise
Assessing Threats Targeting Financial Institutions and Their Employees
Observation vs. Perception: Improving Your Ability to Pick Up on Suspicious Activity