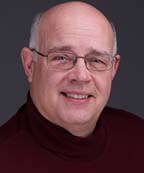 Barry Thompson, Managing Partner
Barry Thompson is a nationally-recognized speaker, consultant, and former banker, with nearly 40 years of service to the financial institution industry. Barry's financial services career spanned 22 years before he "retired" to establish Thompson Consulting Group, LLC, to assist financial institutions in competing more effectively by providing services specifically
targeted to risk management and security.
During his career, he served in various management positions throughout the financial services industry.  In addition to security, Barry has experience in operations, accounting, investments, mortgage processing, and special assignments.  Barry has investigated embezzlement cases, identity fraud cases, check kites, and almost all possible criminal incidents against financial institutions. As a security officer, Barry handled over 900 security cases and has been involved with investigations and prosecutions on the federal, state, and local levels and has testified before grand juries, county courts, bankruptcy courts, family courts, and the New York State Supreme Court.
As a professional speaker, few can match his expertise when it comes to discussing the financial services industry. His programs are based on actual experiences that allow him to relate to any group of financial professionals, from the teller to the board of directors.  He appears frequently before financial institutions and at industry conferences.  Barry is a contributor to various financial and forums.  He has been interviewed by Newsweek,
Computer World, and other national and regional publications. He has made presentations throughout the United States and in Europe, Asia, and at the United Nations.
Rand
all Phillips, Vice President of Security Management

Randy Phillips began his career in financial institution security while still employed as a police investigator in upstate New York.  His career in law enforcement provided his first exposure to the world of corporate security and financial crimes and would shape his career path from then on.
For several years he juggled two careers, pursuing robbers as a police officer and then teaching financial institution employees about dealing with those very people. His  early days in the financial services industry began as an advisor and instructor on bank security topics. He quickly transitioned to the position of board-appointed bank security officer.  During the next twenty years he would further this career and gain valuable experience in administering all areas of security for financial institutions. His analytical thinking and thoroughness have been tremendously beneficial in writing policy and procedure, developing business continuity plans, and creating training programs.
His dual careers have also provided much insight and experience into the world of fraud, embezzlement, and ethics investigations. He has honed his skills in risk assessment and mitigation, designed and implemented a fraud awareness and incentive program for tellers, and been recognized for his robbery awareness and prevention programs. He routinely collaborates with many local, state and government entities including the Department of Homeland Security, U.S. Secret Service Electronic Crimes Task Force, and the Federal Bureau of Investigation.
Arvin Clar is a nationally known seminar speaker, as well as college-level instructor in security, police operations, and economic crime.  He has spoken for organizations, corporations, and trade groups, and has conducted security evaluations and assessments of financial institutions, throughout the United States.  His 35 years of experience in the fields of risk assessment and analysis in the financial services industry and premises security and safety issues includes:  evaluating the level of appropriate safety and security, professional investigation services, violent criminal acts, security survey and analysis, accident investigation, the investigation of fraud and financial crime, and the design of security systems for financial institutions.
Arvin has been published in several national magazines regarding security, fraud, and investigations.  He has authored training programs for bank robbery and identity theft and has been a featured guest on National Public Radio.
Branch Walton is a well-known speaker and author on workplace violence, executive protection, identity theft, school safety, and other security topics with more than 40 years of experience in federal law enforcement, private security, and instruction.
Branch's security experience began with a 21-year career in the U.S. Secret Service where his assignments included: Special Agent-in-Charge of a field office; Assistant Agent-in-Charge of the Office of Training; investigative and protective assignments at three field offices; and security details for Presidents Nixon, Carter, and Reagan.  His criminal investigative experience includes threat assessments and the investigation and supervision of counterfeit cases. Prior to his USSS service, Mr. Walton was a commissioned officer in the U. S. Marine Corps and a special agent with the Office of Naval Intelligence.
Following his career with the Secret Service, Mr. Walton served as a Law Enforcement Coordinating Committee representative with a U.S. Attorney's Office,  Director of  Corporate Security for Cummins Engine Company, Chief of the Federal Law Enforcement Training Center's Management Institute, a criminal justice instructor at Indiana University, and President of the National Association for Bank Security.
Currently, Branch is active in training program development, management, and/or instruction for: the Miami Police Academy (Florida), Federal Law Enforcement Training Center, University of Findley, Eastern Kentucky University, South American Theft Group Intelligence Network, Miami Dade College, Broward County TRIAD, and South Florida INFRAGARD.  He also continues to instruct at Miami Dade College's School of Justice and the Department of Homeland Security in the fields of physical and operations security.
He is the former Associate Dean of Student Services at Henley Putnam University, an online university specializing in intelligence, protection management, terrorism and counter-terrorism studies.  He is also a past or current adjunct faculty member of the criminal justice department of six universities.  Mr. Walton has authored numerous articles, two books, book chapters, and has consulted on several workplace violence training videos.